An "Apgar Score" for Community Developers from the Urban Land Institute (ULI); and new reporting on what shapes health and health policy from NPR, Harvard, the Robert Wood Johnson Foundation, and Brookings' new Health360 blog.
The new year has brought a bounty of resources for those of us working at the intersection of health and community development. We're pleased to share these series of fresh projects that illuminate the effect of built and social environment on physical and mental health.
An Apgar Score for Community Developers?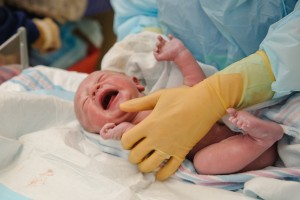 Although we think it's easy to recognize a healthy place when we see one, the steps to incorporating health solutions into a complex development project can be murky. A new toolkit from the ULI gives planners and developers a straightforward way to incorporate healthier design into development projects. The "Building Healthy Places Toolkit: Strategies for Enhancing Health in the Built Environment" simplifies the vast scientific literature on this topic by offering 21 evidence-based recommendations for creating a healthy community. 
We love this kit because its mission is in line with our own—as is its name! But we love it for other important reasons, too.
Our executive director, Doug Jutte, a pediatrician, said the toolkit reminds him a bit of the Apgar score given to newborn babies. It's not a comparison that would have jumped to our minds. But as he explains, the Apgar score was developed to quickly and systematically guide the evaluation of an infant's physical condition in the sometimes chaotic moments just after birth. The ULI toolkit can be a similar checklist for communities and community development corporations and financial institutions seeking a systematic way to keep health enhancements front of mind during the complex—and sometimes chaotic—work required to invest in low-income neighborhoods.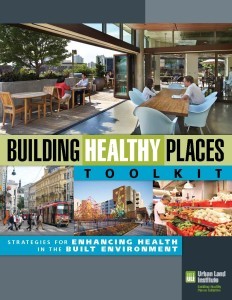 This toolkit is meant to guide work on the built environment broadly, but we see it having strong application to the low-income communities where community development work is focused.
Recommendations include consulting local zoning codes to accommodate a grocery store in building plans, building a prominent staircase to encourage walking, using materials that minimize stress-inducing noise pollution, and ensuring public parks have access points for visitors of all ages and abilities. When put into practice, the recommendations help to lay the foundation for a thriving community. The toolkit, which also includes a list of certification programs, success stories, and resources, is available for free download.
New NPR Beat on What Shapes Health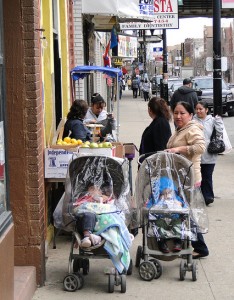 We were thrilled to see National Public Radio (NPR), in partnership with the Harvard T. H. Chan School of Public Health and the Robert Wood Johnson Foundation, launch What Shapes Health this month. At the center of the series is a poll that reveals Americans' perceptions of the causes of good and poor health. The participants know what some professionals are only beginning to understand: "Health" is the sum of varied social and economic factors. Fifty-four percent of those surveyed, for example, believe that experiencing abuse during childhood helps determine health much later in life.
The stories in the radio series took listeners from Oakland, California, to Philadelphia, illustrating the varied effects of living conditions on mental and physical health. A mother recalled how deteriorating housing projects triggered her daughter's asthma attacks. A pediatrician explained how he measures childhood adversity alongside weight and blood pressure. And we were pleased to see NPR's Patti Neighmond link to Doug Jutte's research on housing and child health that came out in the journal Health Affairs late last year. You can also watch a panel of the researchers and journalists who helped make the series discuss their findings in a webcast.
Brookings Institution Launches Health360
A new blog from the Brookings Institution, Health360: The Latest Views on Health Policy, is a trove of information. As the name implies, the blog covers all things health, but many of the posts will be useful for those working at the intersection of health and development. Along with access to health care, "health outcomes are also driven by lifestyle and cultural factors, and the U.S. has high rates of obesity, diabetes, accidents, and homicides," wrote Brookings' Ted Gayer in the introduction to the blog. A previous story looked at opportunities to transform rural health care and the challenges these typically older, poorer, and geographically isolated communities face.
Photos/ Daniel, Adam Jones