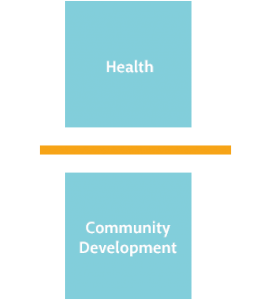 The Problem: Sectors Working in Silos
The nearly one-fifth of Americans who live in low-income communities have fewer opportunities to achieve healthy and rewarding lives. Many of the root causes of poverty and poor health are the same, and the community development and health sectors have worked for decades to address these challenges. However, these two sectors have often worked separately, even when serving the same places and people.
As a result, challenges such as siloed work streams, underestimated value and impact of work, inefficient use of resources, policy roadblocks and unrecognized investment opportunities persist.
The Solution: Coordinated Actions
By collaborating, the community development and public health sectors can have greater impact on the places and people they serve
Today we know that factors related to health, employment, education, housing, and neighborhoods are linked. Place matters and in many cases your zip code is more important than your genetic code in determining your health. We need coordinated action to build communities where all people can live healthy and rewarding lives.