The Mixed-Income Strategic Alliance highlights the best practices and follow-up take-a-ways from our June Network Commons.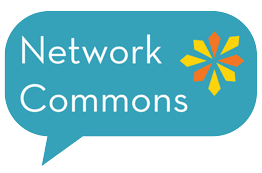 In early June, the Mixed-Income Strategic Alliance discussed Promoting Health Equity through Mixed-Income Communities (click to rewatch). This blog is a follow-up to that Network Commons event to address some of the lingering questions, particularly questions around inclusive social dynamics.
What are some strategies for promoting residents' agency and respectfully empowering community members to be engaged in mixed-income transformation processes and in their communities?
It's important to understand the mixed-income transformation process as more than just pre-development and construction – it is an opportunity to cultivate an inclusive community before, during, and after residential occupancy of the site.
Our report, Promoting Inclusive Social Dynamics in Mixed-Income Communities: Promising Practices, spotlights four models we see as offering promising practices to promote individual agency and influence among residents (among other outcomes), particularly low-income residents of color.
The approaches that we highlight in this report emphasize increased agency as a key aim of the interventions – they are designed to help identify opportunities, nurture, and lift up individual agency. While each model is different, each demonstrate foundational approaches that set them up for success: a clear theory of change, community stewardship, and strategic implementation.
1. Developing a "Theory of Change"
Developing a theory of change involves developing a strong shared set of ideas about how an exclusionary community will be transformed into an inclusive one. The more these ideas are explicit among those living through and working on the community transformation, the better. Some of the promising practices we highlight employ trauma-informed and healing-informed lenses and an asset-based frame. If the community change process starts with an externally-funded and planned initiative, it is important to include in the theory of change how a shift from external catalyst to community-driven and community-sustained change will occur. Further, it is important to establish evaluation processes that measure outcomes in terms of resident and community member agency and empowerment as a result of these efforts.
As part of the theory of change design, stakeholders – from property staff to developers to residents – must explicitly name the existing underlying historical structural racism and other enduring conditions that perpetuate isolation and exclusion. Then, stakeholders can create the space to discuss the implications of this historical context and commit to self-reflection, transformation, and an operating culture shift away from the status quo and infuse these ideas into the theory of change.
2. Elevating community stewardship to drive and sustain communities
Since we know that in most cases, inclusive social dynamics do not naturally emerge in mixed-income communities, residents, community members, community-based professionals, and other institutional stakeholders must "steward" the delicate process of cultivating an inclusive mixed-income community. This involves identifying individuals that are well-positioned to build local capacity, promote the interests of marginalized residents, and cultivate common ground and a shared community operating culture. Everyone has an essential role in promoting inclusive social dynamics – it is not a discreet aspect of a mixed-income community that can be assigned to a particular person or group.
3. Operationalizing the theory of change through strategic implementation
In order to implement the theory of change, a well-resourced organizational structure that will support and sustain this inclusion process must be identified or established. A strong example of this is Regent Park's governance model, which is designed to increase tenant influence and power in decision-making and build leadership capacity. Changes in routines, practices, and activities that cultivate inclusive social dynamics must be built into work flows and job descriptions.
To promote promising practices, who is involved? Who are key players? Who are the most important audiences to receive lessons learned and technical assistance?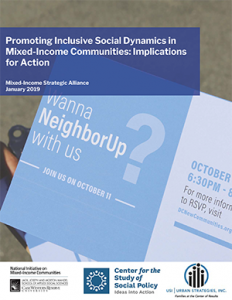 This builds off our discussion of Community Stewardship (#2) above. We feel strongly that an important answer to this question is: everyone! In our view, a common misunderstanding or misstep is to assign or delegate the "community-building" work to a particular actor or organization – without recognizing that all parties to a community change process have a role to play in conceptualizing, promoting, and holding accountable a more inclusive "operating culture." This is not just about actors at the community level – but indeed also about actors at the organizational, institutional and systems levels as well. In Promoting Inclusive Social Dynamics in Mixed-Income Communities: Implications for Action we name specific actions for practitioners, policymakers and funders, researchers and community members.
While all stakeholders have an essential role, we particularly consider two key actors: property managers, who have unique on-the-ground positioning to connect residents and resources and cultivate an inclusive environment; and development teams and planners, whose design and decision-making powers shape neighborhood dynamics, either toward inclusion or exclusion. But it is exciting to think of additional stakeholder groups, such as health systems and organizations who may not see themselves as part of the community building apparatus, but are.
The "who" is as important a question as the "when"? A key to this work is early, proactive exposure to these ideas and generations of clear visions and theories of change and action – as well as attention to key learning, teachable, designable moments when stakeholders are particularly open to bigger picture thinking and innovating.
How do we promote leadership from diverse residents across the income spectrum and among renters and homeowners to facilitate and lead community building processes?
Leadership can be cultivated in a number of ways, both through well-designed, intentional practices and spaces as well as organically in communities. The notion of "stewardship" promoted by Trusted Space Partners is a helpful way to push beyond the traditional perceptions of what many think of as leadership (more formal positional leadership) to explore the influence and future-shaping that can occur in everyday settings and circumstances, outside of meetings and events.
A key stewardship goal is to have increased numbers of individuals (residents and professionals) with a clear and aspirational vision of a more inclusive mixed-income community, a keen understanding of the incredibly difficult endeavor that may lie ahead, and an everyday, informal commitment to speaking and acting a different "operating culture" into being.
What is the infrastructure needed to support inclusive social dynamics, especially in naturally occurring mixed-income communities, or communities that are gentrifying?
While our experience and our research has been more focused on planned mixed-income developments, it is a very important to move our thinking, learning and prescriptions into the naturally-occurring mixed-income space, particularly as more and more urban spaces are experiencing this kind of change.
It is clearer within planned development projects to identify processes and actors into which this work can be integrated. But there is certainly community engagement and community development infrastructure that exists in many naturally-occurring mixed-income communities – community-based organizations and intermediaries and other mission-driven entities. Our experience working in mixed-income communities has made it evident that for relationship-building and network-building across lines of difference to occur, some level of planning and execution support is needed from a community-based entity or organization; it is not something that is easily sustained by neighbors among themselves.
The roles for the infrastructure in naturally-occurring communities would be similar to the roles in planned communities: to promote a shared vision and commitment to inclusive mix, to spark, seed and sustain activities that engender inclusion, and to identify and counter activities that divide and impede a sense of belonging and agency with vigilance. Establishing these important precedents will help set up a community to protect itself from potentially damaging outcomes of gentrification, such as displacement and unaffordability.
---
To learn more, check out all of the Alliance's reports here.