For many seniors, the thought of a nursing home is frightening—and dreaded. Assisted living communities can offer more autonomy, but often are out of reach financially because Medicare does not cover their services and Medicaid, the primary funder of long-term care, is limited in what it covers.
[figure]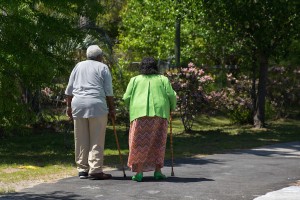 [/figure]Long-term care is expensive for both families and governments, and the question on everyone's mind is: How do we lower costs and improve lives for older Americans, particularly as the United States rapidly ages? A study in Ohio looked at the issue more closely.
"About 20 percent of the people in skilled nursing facilities could live in affordable seniors housing, yet almost all of Ohio's assisted living facilities are private-pay and do not accept Medicaid-eligible residents," said Michelle Norris, National Church Residences (NCR) senior vice president, in a news release. NCR is a nonprofit housing provider, including assisted living facilities, in 28 states and Puerto Rico.
Assisted living is considered housing, which Medicaid does not cover. Nursing homes, however, provide services, which Medicaid does cover.
Ohio, like several other states, uses a waiver from Medicaid to pay for assisted living services for people with certain care needs who meet financial thresholds. Using the Assisted Living Waiver (ALW), the state supported 90 low-income residents in three NCR assisted living communities. NCR, which hoped to expand this model, hired independent researchers to test whether assisted living was more economical to the state than nursing homes.
The 2012 study, conducted by Health Management Associates and funded by the Kresge Foundation, compared the daily cost of services for the 90 residents in NCR assisted living with the average daily cost of services for a resident in a nursing home. It turns out the NCR model saved the state $73.08 in Medicaid costs per person per day, or a 50 percent savings over nursing home care.
The researchers estimate that 20 percent of the 1.8 million nursing home residents could benefit from assisted living. That's 360,000 people— or $9.6 billion in savings each year. To put it in context, the total budget for HeadStart was $8 billion in 2014, and it serves only about one-half of eligible children (41 percent of 3-year-olds, and 58 percent of 4-year-olds in poverty). Money currently spent on the elderly could instead expand the program for the next generation, while helping the former.
The report makes the case for Medicaid to include assisted living—or, better yet, housing in general—in its spectrum of covered "services."
"Housing and positive health outcomes are linked," the report says. "There are numerous studies that demonstrate the impact of supported health services combined with safe and affordable housing … in part because it provides an organized structure for the delivery of health care." With supports and services onsite or nearby, residents are more likely to attend to their health conditions, lowering emergency room visits and hospital admissions and readmissions. They are also less likely to be evicted from their homes, and assisted living can also allow seniors to remain in and among their communities, which reduces social isolation, which can impact health. An American Journal of Public Health paper co-authored by Doug Jutte found that social isolation is a predictor of mortality on par with clinical risk factors among U.S. adults.
Researchers propose two workaround strategies for combining separate sources of funding to harness Medicaid dollars for affordable housing. In one proposed model, developed by the National Affordable Housing Trust, the Low-Income Housing Tax Credit (LIHTC) is paired with a federal 1115 waiver, which allows for Medicaid reimbursement for capital. The other proposal, from Recap Real Estate Advisors, uses a "social impact bond," which involves private investors who foot the upfront costs in exchange for a rate of return on their investment when governments achieve "downstream" cost savings.
But in NCR's ideal model, these workarounds would not be necessary. With the knowledge that housing and health are inextricably linked, Medicaid would cover assisted living, likely saving states a bundle.
Top photo/ North Charleston