Our team is regularly on the road, hearing and learning about how community development and health are joining forces. In this occasional series, we report on what we are discovering to help you stay on top of the cutting-edge policies, tools, and projects in the fields. Daniel Lau, Manager of Strategic Engagement, caught us up on his recent trip to Houston for the LISC National Leadership Conference.
Read the full Dispatches series!
What conference did you attend?
I was in Houston, Texas for the 2016 LISC National Leadership Conference. I was able to tour an equitable transit-oriented community development project in the South Union neighborhood of Houston the first day, and attend panels and network the second day. The conference was LISC's annual meeting, which brings together local LISC organizations around the country, LISC partners and key national and community leaders for workshops, peer-to-peer learning, and other events. We were honored to be invited to join the important conversation and proud to be a partner with them.
Where did you tour in the city?
On my first day in Houston, we toured a new equitable transit-oriented development. The city is expanding its light rail public transportation system, and thinking about how the expansion can provide increased opportunities to people with lower economic resources and health indicators. The strategy of equitable transit development is gaining momentum in the community development field and focuses on building affordable housing with services in close proximity to new high-quality public transit.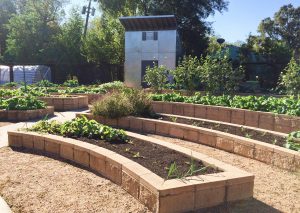 Research and data have shown that low-income people spend between 54 and 59 percent of their gross income on housing and transportation, so addressing both of these needs in one swoop can be both cost-effective and support people in communities that have been historically disinvested.
The new development in Houston's South Union neighborhood was a great example of equitable transit-oriented development. A new mixed-use building will have retail and commercial office space on the ground floor, and apartments and residents on the upper floors. A community garden and a new library are also nearby, co-located with the light rail stops. We were able to hear from some local residents and community members who have been advocating for these developments for decades.
What sessions and conversations did you have?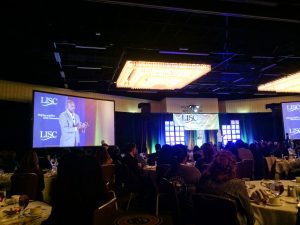 Amy Gillman, the National Program Director at LISC in New York City, invited the Network to be part of the conference, and facilitated many introductions! I met people from the Robert Wood Johnson Foundation, Fannie Mae, and members of LISC who are working in California and the Bay Area. I really appreciated Amy's introductions and many of those relationships could lead to new collaborations with the network.
Which presentation have you still been thinking about?
Anna Greenburg, from Greenburg Quinlan Rosner Research, presented post-election data from counties and states that swung political parties. She discussed many factors, including the unexpected voter turnout from citizens who had not come out to vote in previous elections. A robust Q&A afterwards highlighted that the counties that went red are economically depressed and have higher rates of suicide, drug use, and alcohol use. To me, it furthers the connections between community development and health and is giving me ideas on how to frame issues and continuing making change with the incoming administration.