The Program of All-Inclusive Care for the Elderly (PACE) is a successful integrated care model with potential to help many more than it currently serves.

This is part of our Fast Facts series with Capital Impact Partners and West Health that highlights how coordinated services – from healthcare to housing – can create livable, age-friendly communities that support the economic, health, and social needs of older adults.
---
Fact: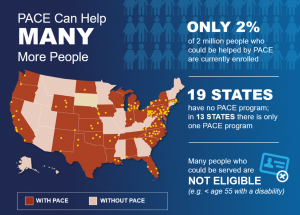 Our nation is challenged to provide appropriate and comprehensive health care for older Americans, whose numbers are growing daily. The Program of All-Inclusive Care for the Elderly (PACE®) is a successful integrated care model. However, the program currently serves only about 50,000 of the two million people that it could potentially help. Community development partners can help expand access to this proven model of care for older adults, especially in underserved communities.
Summary:
For older adults, dignity exists in aging in their communities, where they can stay connected to family, friends, supportive services, and familiar surroundings. Many individuals fear nursing home placement, which can lead to isolation, boredom, dependency, and worse health. Access to high-quality, coordinated health and support services can help older adults age in their communities. PACE is the gold standard of person-centered, integrated care that enables Medicare beneficiaries who are eligible for nursing home care—most of whom also use Medicaid—to remain in their homes. Recognizing that caring for older adults takes addressing traditional medical care and the social determinants of health, PACE provides a range of medical and social services to enrollees. Each local PACE organization maintains a community-anchored 11-member interdisciplinary team – including a physician, social worker, therapist, dietician, and driver – that provides person-centered, affordable health care and supportive services, such as healthy food, caregiver support, and transportation for each participant.
Expanding Access to a Proven Model
Funded by West Health and The John A. Hartford Foundation, the National PACE Association (NPA) is working to (1) increase enrollment in currently operating programs, (2) accelerate the launch of new programs, and (3) expand access to populations that are not currently eligible (e.g., individuals under age 55 who meet the nursing home criteria in their state).
In January 2019, NPA reached a major milestone in their PACE 2.0 effort by sending a tailored tactical toolkit to each PACE organization with strategies for how to accelerate growth among older adults across the country.
West Health has also invested in the development of its very own PACE center in northern San Diego, Gary and Mary West PACE, opening in 2019.
How Community Development Organizations Can Help Grow PACE
Community development partners and funders have an opportunity to expand access to PACE to improve care for older adults in their communities.
Where PACE programs exist in communities, community development organizations can reach out to identify partnership or financing opportunities. The Thome Riverton Neighborhood, located in Detroit, Michigan, currently serves 370 low-income elders through affordable and independent assisted living, supportive services and a PACE day center developed and managed by Presbyterian Villages of Michigan. It provides a model of how PACE can be combined with other affordable supports in the community, like housing, skilled nursing and more.
As the nation's aging population grows, community development organizations, local officials and community members can discuss PACE as a viable solution for helping older adults age with dignity.