New outcomes-based tools allow governments to identify high priority outcomes, and to flexibly encourage activities toward achieving those outcomes with multiple interventions and strategies.
Communities are looking for ways to build more livable cities, promote healthy lifestyles, and create an environment where residents can achieve their potential. It's a broad vision that most whole-heartedly endorse—but achieving it isn't easy. To start, the social challenges facing communities of all sizes have no simple solutions. For issues as complex as chronic homelessness, or the many challenges that face youth aging out of foster care, or the need to update an outdated workforce training system to meet the demands of a rapidly changing economy, one policy initiative simply cannot address the many facets of the problem. Even when we do know clear steps or initiatives that could help improve outcomes, the systems through which we fund social services—both publicly and privately—typically aren't set up to support agile decision-making, nor necessarily to encourage strong performance and accountability among existing funding streams.
In response to these conditions, community leaders are increasingly pursuing collaborative initiatives—ones that reach across the traditional divisions between sectors, issues, and other lines of doing business. One such approach is Pay for Success (PFS)—a public-private partnership in which government expands high-quality services through a performance-based contract, with impact investors covering the upfront services costs, and government only paying for services as positive outcomes are achieved. Pay for Success draws on the parallel movements of evidence-based policymaking, impact investing, and the data-driven social sector to align incentives and produce projects where success for all stakeholders hinges on whether participants experience actual life improvements.
At Social Finance, we have worked to expand access to high-quality services across diverse geographies and issue areas since the earliest days of the PFS field (our sister organization, Social Finance UK, launched the world's first PFS project in 2010). Recently, we have added another outcomes-based tool to the government toolbox through the development of outcomes rate cards.
Outcomes as the Goal
An outcomes rate card is a procurement and contracting tool through which government defines a menu of outcomes it seeks to "purchase" for a given issue area and target population (e.g. industry certification, job placement, job retention, and earnings increases among at-risk young adults) and the amount it is willing to pay each time a given outcome is achieved.  The rate card is used to contract with service providers and standardize outcomes-based financing. With one outcomes rate card, governments can launch multiple PFS projects, selecting multiple service providers to deliver on the same rate card and serve more people.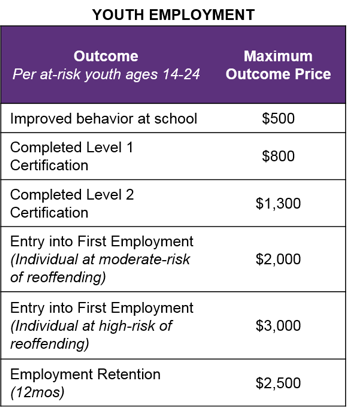 Social Finance recently closed a national competition to develop the first outcomes rate cards in the U.S. We are pleased to announce the first winners of that competition: over the coming year we will work with the Riverside County Executive Office and Yale Child Study Center alongside the Connecticut Office of Early Childhood to develop outcomes rate cards addressing the needs of children and families in California and Connecticut.
Targeting children of incarcerated parents
Riverside County Executive Office is looking to develop an outcomes rate card to improve services for Children of Incarcerated Parents (CIP), who face a range of challenging circumstances that put them at a higher risk for adverse health outcomes, low academic performance, and diminished economic opportunity.
An outcomes rate card will help Riverside County expand the range of services needed to adequately support CIP, driving resources toward high-quality service providers and helping set children up for long-term success.
Improving early childhood outcomes
Yale Child Study Center and the Connecticut Office of Early Childhood will build on their history of collaboration and experience with Pay for Success to design an outcomes rate card addressing early childhood outcomes.
The partners will analyze data from the state's Early Childhood Information System and identify the issues of greatest need facing the state's young children and their families. Together, they will develop an outcomes rate card to support outcomes-based projects addressing that need.
Rate cards lead to success
For a state or local government, developing an outcomes rate card involves asking important questions about the ultimate goal of different services, helping to clarify how to make funding decisions that incentivize providers to achieve that goal.
Such questions include: What is the target population and what are the needs and defining characteristics of that population? What evidence exists for high-quality interventions in this issue area, and what is the existing landscape of service providers that deliver these (or other) interventions? What combination of interim measures, short-term outcomes, and long-term outcomes would represent progress for the target population? What is the cost-benefit of services to help achieve the desired outcomes? Such questions will help jurisdictions make an important shift in their procurement mindset—by procuring outcomes instead of services. Because the service contracts are based on performance, this approach also incentivizes active performance management and careful data tracking to understand how the project is performing, and how it could be improved.
Outcomes rate cards have the potential to allow government to identify high priority outcomes, and to flexibly encourage activities toward achieving those outcomes with multiple interventions and strategies. If you are interested in learning more about outcomes rate cards, get in touch. Further, we anticipate a second round of the competition will open within the next year, and we look forward to advancing outcomes-based projects short and long term.