Confused by acronym soup? Experts from the Georgia Health Policy Center dispel confusion and explain the differences between HIAs, CHNAs and CHAs and how you can use these tools to boost your work in the community.
For more than 20 years, the Georgia Health Policy Center (GHPC) has lived its mission of integrating research, policy, and programs to advance health and well-being. Through the clients it serves at the local, state, and national levels, GHPC has been embedded in the problem-solving cycle of real people and real challenges. To identify community-wide areas of concern and support the development of strategic actions to improve health, GHPC assists public health departments, health systems, government agencies, and community development coalitions/stakeholders with a variety of assessments, including health impact assessments and community health needs assessments. While these assessments share the objective of improving community health, they differ in regards to their scope, intended use, and stakeholders involved.
Health Impact Assessment
Partners involved: community members, business interests, and other affected stakeholders. Goal: Health impact assessments are a tool used to identify the potential health effects of a proposed policy, plan, program, or project.
Many of the biggest influencers of health and well-being fall outside of the traditional health care setting. Activities in sectors such as housing, transportation, education, and land use all have implications for a community's health. Applying a health lens to decisions made in these settings helps identify intentional and unintentional consequences that can either facilitate or hinder improvements in health status at the community level.
Health in All Policies is a systematic approach that explores the intersections of health and other sectors to identify opportunities for mutual benefit. When communities work collaboratively, they help create environments that enable people to lead healthier lives.
A health impact assessment (HIA) is one of the tools used to support a Health in All Policies approach. HIA is a structured process that brings together scientific data, public health expertise, and stakeholder input to identify the potential health effects of a proposed policy, plan, program, or project. Based on an objective and thorough analysis of potential effects, an HIA offers practical recommendations for ways to minimize risks and capitalize on opportunities to improve health.
HIA typically follows a six step process outlined below:
| | |
| --- | --- |
| HIA STEP | PURPOSE |
| 1. Screening | To determine whether an HIA is needed, feasible, and likely to be useful |
| 2. Scoping | To determine the important health effects, affected populations, available evidence, and roles of stakeholders |
| 3. Assessment | To analyze baseline conditions and likely health effects |
| 4. Recommendations | To develop feasible, evidence-based recommendations and a plan for implementing them |
| 5. Reporting | To disseminate findings to decision makers, affected communities, and other stakeholders |
| 6. Monitoring / Evaluation | To monitor the results of the HIA and evaluate it in respect to process, impact, and outcomes |
The Health Impact Project, a collaboration of the Robert Wood Johnson Foundation and The Pew Charitable Trusts, is a national initiative designed to promote the use of health impact assessments (HIAs) as a decision-making tool for policymakers. A new issue brief from the Health Impact Project, informed by GHPC research, introduces HIAs to community developers and policymakers and explains how developers can incorporate health considerations into their decisions.
As part of its HIA portfolio of projects, GHPC has contributed to HIAs on diverse topics, including community development, green infrastructure, and transportation. GHPC also conducted the first HIA in the United States that informed a state's allocation of low-income housing tax credits as a way to support health-promoting aspects of affordable housing development.
Community Health Needs Assessments and Community Health Assessments
Partners involved: health care providers, public health departments, and community members. Goal: Community health needs assessments are a systematic way to identify pressing community health needs and issues.
Community health needs assessments (CHNAs) and community health assessments (CHA) have similar goals of identifying pressing community health issues, but differ in name by industry. CHNA is generally used by hospitals and health systems, while public health departments use CHA.
The Affordable Care Act (ACA) called on nonprofit hospitals to target prevention and population health through expanded community health improvement activities. The ACA requires nonprofit hospitals to conduct CHNAs every three years for tax exemption purposes, along with an implementation strategy, which creates a plan to address the needs identified during the CHNA.
CHAs are usually conducted every five years by public health departments and are increasingly performed for accreditation. The accompanying strategy to address needs identified by the CHA is called a community health improvement plan (CHIP).
CHAs and CHNAs help identify pressing community health needs and issues through a systematic and comprehensive analysis of local data. These assessments examine health needs beyond access to care and can include other determinants of a community's health, such as social, behavioral, and environmental factors. Assessments are usually informed by data and quantitative metrics, as well as information provided by multiple stakeholders, including providers, public health departments, and community members.
These health assessment findings inform community-wide priorities and support the development of strategic actions identified in implementation strategies and CHIPs. CHIPs help coordinate how community partners align health improvement strategies and target resources. The Public Health Accreditation Board (PHAB) also requires CHAs and CHIPs for public health department accreditation.
The Association for Community Health Improvement's Community Health Assessment Toolkit offers a nine-step pathway for conducting a CHA and developing implementation strategies.
CHNAs vs. CHAs vs. HIAs
There is overlap between these three assessment techniques in that all share the goal of improving population health and are used to inform future decision making. Given the broad, community-level health overview provided by CHNAs and CHAs, they can be used to inform HIA scoping. In turn, HIAs can be seen as a way of translating health-specific information and goals for the broader group of stakeholders involved in community development. This table provides a quick overview of each assessment type's intended use.
| | |
| --- | --- |
| Assessment Tool | Intended Use |
| Health Impact Assessment | Used by policy makers to evaluate a policy's potential public health impact. Tied to the Health in all Policies concept. |
| Community Health Needs Assessments | Used by nonprofit hospitals, as required by the ACA, to identify local community health issues. Accompanied by a plan to address. Required every three years. |
| Community Health Assessments | Used by public health departments to review local data and reorient priorities. Often done every five years. |
How to Conduct a CHNA and CHIP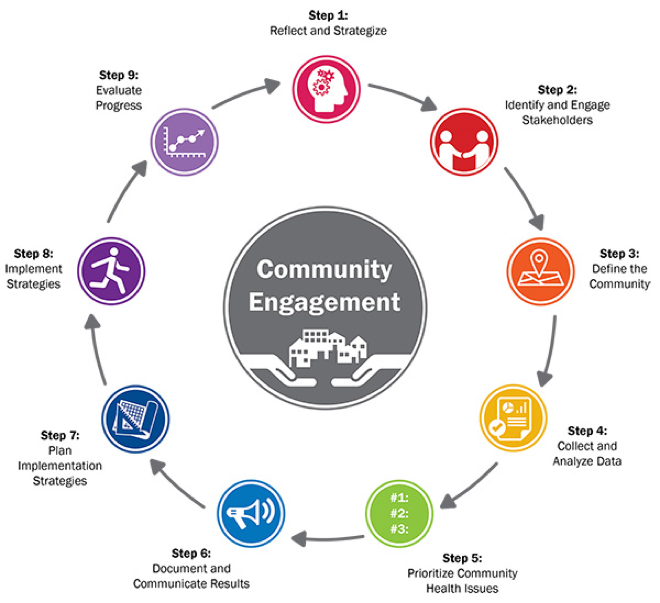 Source: Association for Community Health Improvement. (2017). Community Health Assessment Toolkit. Accessed at www.healthycommunities.org/assesstoolkit
About the Georgia Health Policy Center
GHPC is actively working in more than 200 communities across the United States to achieve community health improvement. As part of its ongoing work the center provides training and technical assistance for HIA practitioners in addition to conducting HIAs. GHPC also aids hospitals, health systems, health plans, and health departments (state and local) in designing and conducting CHNAs and facilitating strategic planning for CHIPs.