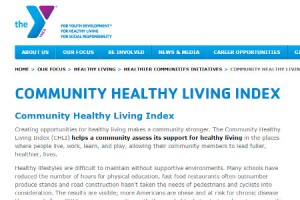 Creating opportunities for healthy living makes a community stronger. The Community Healthy Living Index (CHLI), developed by the YMCA of the USA, helps a community assess its support for healthy living in the places where people live, work, learn, and play, allowing their community members to lead fuller, healthier, lives.
Healthy lifestyles are difficult to maintain without supportive environments. Many schools have reduced the number of hours for physical education, fast food restaurants often outnumber produce stands and road construction hasn't taken the needs of pedestrians and cyclists into consideration. The results are visible; more Americans are obese and at risk for chronic disease than ever before. CHLI equips communities with the needed tools to start working to reverse this trend, while building strong partnerships to strengthen the community fabric in the process.
CHLI is most effective when many different community stakeholders are involved in the process and implementation of recommended strategies.  CHLI is open to all interested communities and persons but it is recommended that those interested connect with their closest Y to coordinate efforts.
Communities may use the CHLI tools to discover strengths, identify needs, plan for action and, ultimately, build healthier communities.