Join us for the upcoming Network Commons webinar on March 25 9:00-10:30 am PT/ 12:00 – 1:30 pm ET.
Join us on March 25th as we dive into the Healthy Neighborhood Investments: A Policy Scan & Strategy Map (Policy Scan) and Thriving Together Springboard!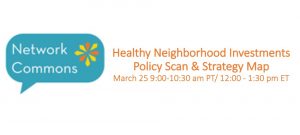 Learn more about the vital conditions that bolster the advancement of health and racial equity and explore how we can use the Policy Scan as a tool of action. Be part of the dialogue as speakers discuss the roles that multi-sector coalitions, including healthcare systems, community development organizations, community leaders, and policy makers, can take to promote policy change that builds healthy, equitable, and prosperous communities for all.
Speakers:
Moderated by Renae A. Badruzzaman, MPH, Program Manager, Build Healthy Places Network and Jen Lewis-Walden, MA, MEM, Co-Founder, Shift Health Accelerator