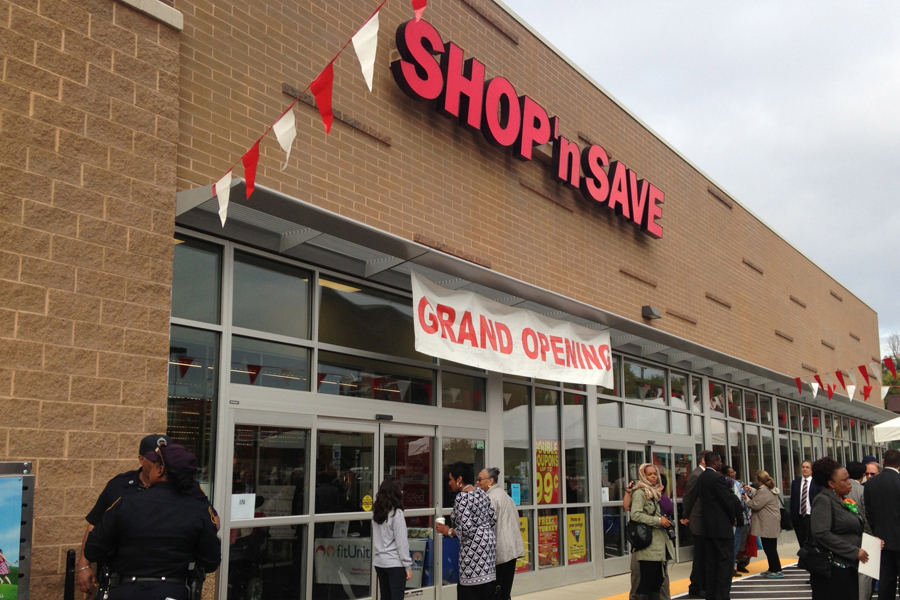 Three Takeaways for the Field: Grocery Stores as Community Development
Can grocery stores improve community health and well-being? For me, the answer is "yes."
Prior to my current work at the Build Healthy Places Network, I worked for a decade as a community planner committed to expanding access to healthy foods in low-income communities nationwide. One of my first projects was in Pittsburgh's Hill District where I worked with Hill House Association and local residents to develop plans for a neighborhood grocery store. The last neighborhood supermarket had closed in the 1980s. Since then, local leaders had struggled to attract grocers and other businesses to the community despite considerable progresses in mixed-income housing development.
Our project responded first and foremost to residents' long-standing desire for a grocery store; Hill District residents often relied on higher-priced convenience stores within the neighborhood or traveled several miles by bus or taxi to larger supermarkets elsewhere in the city. At the time, a small but growing body of research on 'food deserts' and racial and socio-economic disparities in health proved to us that there was a health argument to be made as well. But overall, this project was premised in the idea that a grocery store could be more than just a more convenient place to buy food, but rather part of a holistic community development strategy to catalyze reinvestment.
In 2013, after almost a decade of false starts and securing financing (including a federal Healthy Food Financing grant), Hill District residents celebrated the grand opening of the store—a Shop N' Save supermarket. Back in 2005, when we made our first big strides with the project, it was our hope that the store would spur neighborhood revitalization and ultimately improve community health and well-being. Coincidentally, an important study released last month confirmed our original vision. Known as the Pittsburgh Hill/Homewood Research on Eating, Shopping & Health (PHRESH) study, Tamara Dubowitz and a team of researchers from the RAND Corporation assessed residents' shopping patterns, diets, and perceptions before and after the opening of the Shop N' Save supermarket. The study revealed compelling but seemingly opposed findings.
Somewhat disappointingly, the study revealed no significant improvements in neighborhood obesity rates or overall consumption of fruits, vegetables, and whole grains. However, residents consumed fewer calories, perceived improved food access as a result of the store, and were significantly more satisfied with their neighborhood as a place to live (see a full summary of the findings here). But a striking finding in those results was that the health improvements were not tied to shopping at the grocery store. So, what does this mean?
These seemingly contradictory findings, however, are more understandable in light of numerous past studies, including one released this past September (produced by a different team of RAND researchers). That study similarly measured BMI, weight, and food consumption patterns and concluded that proximate food retail has no measurable impacts on health. While food access is a well-evidenced social determinant of health**, this new study confirmed that the positive effects of neighborhood grocery stores cannot be fully understood based only on residents' diets and shopping habits.
Instead, this new study suggests that neighborhood perceptions themselves are important pathways to health. In that way, the PHRESH study paints a more nuanced picture of how grocery stores—both directly and indirectly—influence health.
In contrast to the aforementioned studies and subsequent media coverage that have caused some to question the premise of government investments to combat food deserts, the PHRESH study suggests that grocery stores can have positive health effects primarily as an important component of neighborhood revitalization. In that way, they appear to represent more than just a public health intervention to address 'food deserts' and obesity.
Indeed, further research is still necessary to fully understand the complex factors that explain the connections between 'food deserts' and neighborhood health (e.g., socio-economic status, food costs and quality, or cultural food preferences). But the results of the PHRESH study lay the groundwork for further explorations into the following areas:
1. Grocery stores as neighborhood revitalization
The PHRESH study suggests that researchers and policymakers must broaden their understandings of how grocery stores function as neighborhood revitalization strategies to improve community health and well-being. And, in fact, this concept is not new. Despite the heightened focus on 'food deserts' and the role of grocery stores as public health interventions to combat obesity, it is important to note that for over a half century, the $200 billion per year community development sector has developed grocery stores in low-income communities for the purpose of neighborhood reinvestment.
For example, long-standing Community Development Corporations (CDCs) such as Brooklyn-based Bedford Stuyvesant Restoration Corporation and Newark-based New Community Corporation were early leaders in developing neighborhood grocery stores among resident-led businesses in low-income communities (read more here). Additionally, since the creation of the U.S. Treasury's Community Development Financial Institutions (CDFI) Fund, CDFIs have become key partners in the development of grocery stores. For example, from 2004-2010 The Reinvestment Fund, a national CDFI, invested over $73 million in loans and $12 million in grants for healthy food retail through its Pennsylvania Fresh Food Financing Initiative (the precedent for the federal Healthy Food Financing Initiative). It is important to note the goal of the program was not to explicitly to eradicate food deserts, but to stimulate private investment in low-income communities, remove the financial obstacles for supermarkets, reduce diet-related diseases, create living wage jobs, and prepare and retain a qualified workforce.
So, while public health researchers and policymakers have made strides in understanding the health value of food retail in low-income communities, there is still much we can learn from the community development sector's work in this realm.
2. Grocery stores can be anchors in cross-sector strategies to improve health
While the PHRESH study reinforces a broad, revitalization function for grocery stores in low-income communities, it also still suggests that they still play a critical, direct role in improving health. It often takes more than a grocery store—it requires grocery operators working strategically with the health sector and other partners.
For example, when Syracuse-based Nojaim Brothers Supermarket underwent a substantial renovation in 2014, store owner, Paul Nojaim also thought creatively about how he could do more to support the health of his customers. A strong advocate for the revitalization of the local community, Nojaim initiated collaborations with nearby St. Joseph's Hospital, Syracuse University, and the Onondaga Department of Health to coordinate primary care and nutrition education with his store. Through the support of the Low Income Investment Fund (LIIF), another national CDFI, and other investors, Nojaim secured financing for the renovations and also launched an in-store rewards program to encourage the purchase of healthy foods. Specifically, shoppers receive points for discounts on healthy food items and health services. And for those who opt in, these data on customer purchases can then be shared with local health providers for nutrition counseling and healthy living education.
In another creative example, the ReFresh Project in New Orleans, also supported in part by LIIF, integrated the development of a grocery store with programs to support the broader health and well-being of its residents. Anchored by a small-format Whole Foods Market specializing in lower-priced goods, the complex also includes the Tulane University Goldring Center for Culinary Medicine providing nutrition education programs for local residents, Liberty Kitchen, a job-training program for local youth in food services, a community center, educational services, and an on-site teaching farm.
The ReFresh Project and Nojaim Brothers Supermarket are models that reinforce the idea that truly addressing 'food deserts' requires addressing poverty in a broader and more holistic way. While it takes more than just a grocery store to improve a neighborhood's health— a grocery store can play an important role in holistic community investment by serving as an anchor for commercial development and as a hub for necessary neighborhood services.
3. Metrics matter when it comes to understanding grocery stores' impacts
Finally, in order to scale the benefits of the Hill District Shop N' Save supermarket and similar projects, it remains critical to use the appropriate metrics to understand their health value. As suggested by the PHRESH study, traditional medical indicators—be it Body Mass Index, weight, or even food consumption—do not necessarily provide a complete picture of health impacts. This is particularly important in light of established evidence that upstream determinants of health—such as healthy food access, stable housing, and employment, and good schools—can influence over 50% of preventable mortality.
So, what are the right metrics for understanding the health impacts of grocery stores? The Build Healthy Places Network's own MeasureUp has some answers. MeasureUp is an online portal that highlights the most useful tools to help community development and health practitioners measure impacts—be it for grocery stores, housing developments, and other neighborhood initiatives. Several resources relevant to future research on grocery stores' impacts include the following:
The Massachusetts-based Healthy Neighborhoods Equity Fund (HNEF) is a $30 million private equity fund that helps finance health-promoting projects near transit from parks and green space to grocery stores. To be eligible for funds from the program, projects must meet certain criteria, one of which is to score above 50 on the "HealthScore Rating System." This system determines the health impacts of projects on their local communities using a variety of indicators including access to fresh food, indoor air quality, and economic opportunities. Grocery stores are among a number of important indicators of broader neighborhood health.
Another useful resource is the Metrics for Healthy Communities site developed by Wilder Research of St. Paul, MN and the Federal Reserve Bank of Minneapolis. This online tool helps communities plan and measure the impacts of various projects to improve community health and well-being such as child care centers, affordable housing, health clinics, and grocery stores. In line with the PHRESH study, the tool includes neighborhood-level indicators (not just individual health indicators) to determine the broader impacts of healthy food initiatives. This includes self-reports of health and well-being, social connectedness, emergency room visits, and preventable hospitalizations.
In sum, the PHRESH study provides an important precedent for future public health research through its nuanced assessment of the forces that influence community health and well-being. It also lifts up a project that is personally meaningful for me and hopefully for many others.
---
**Note- Access to healthy foods is a well-evidenced social determinant of health recognized by these linked reports from the World Health Organization, the Centers for Disease Control and Prevention, and the U.S. Department of Health and Human Services.
Homepage image/RAND Corporation