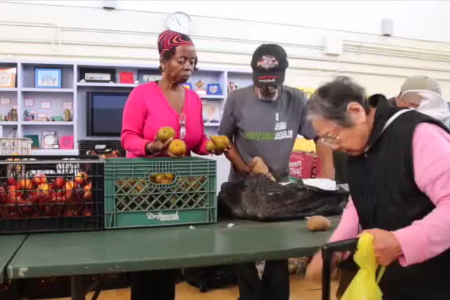 New Video on EBALDC's Approach to Intersecting Health and Community Development
What happens when cross-sector partners come together to ensure that residents have opportunities for health at their doorstep? A new Partners in Progress video explains how EBALDC and its partners are focused on improving the long-term outcomes of health and wellbeing for residents of the San Pablo Avenue Corridor, a 1.5 mile stretch in West Oakland, CA.
EBALDC's integrated "Healthy Neighborhoods" approach works to bring together cross-sector partners and residents of all ages to create a healthier community by advocating for housing affordability, investing in neighborhood safety and beautification, increasing access to health services, and creating new economic opportunities. Representative of this work is the California Hotel project, a partnership combining supportive mental and physical health services with permanent affordable housing and ground floor commercial space in an iconic rehabbed hotel.
Through its coalition of partners and with the help of PIP funding, EBALDC is working to expand this model for healthy, vibrant communities throughout the San Pablo Avenue Corridor, increasing access to similar services and opportunities for the larger community.
Plans for the future of the Corridor and community include: increased commercial planning and development to attract new organizations and businesses aligned with the Healthy Neighborhoods vision; resident advocacy initiatives to empower residents as agents of change; focus on increasing public sector investment in the community; transforming blighted parks and areas into safe, community gathering places and hubs; advocating for and building more affordable housing units; and partnering with hospital and health care systems to better coordinate and support resident health.