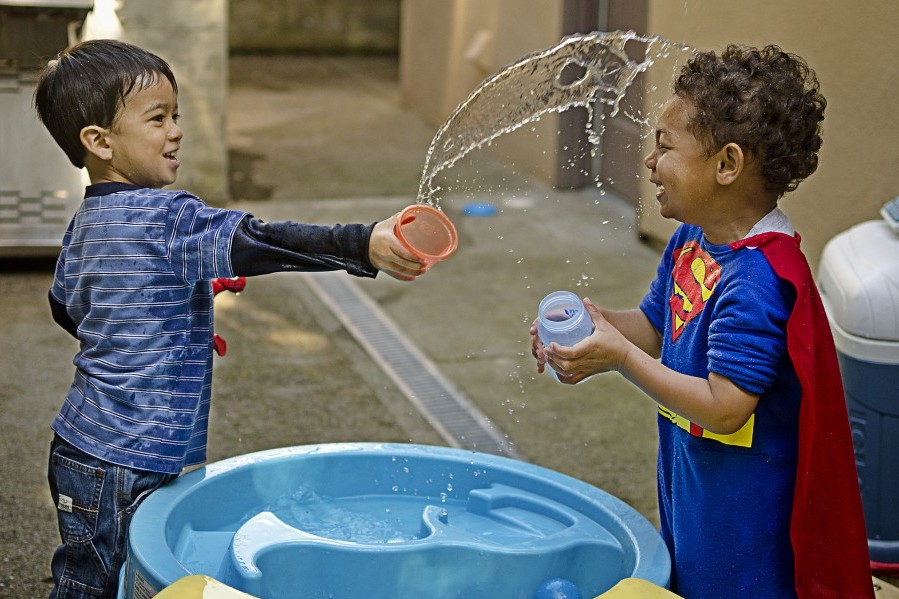 Mobilizing Community Development on Behalf of Children
We spoke to the Robert Wood Johnson Foundation's Katie Wehr about the intersection between child development and community development, and what can be done to strengthen these links. 
At the Booth Memorial Child Development Center in Oakland, California, kids bike across a new patio or sit cross-legged on a floor that no longer aggravates their allergies or asthma. Those improvements were funded in part by $70,000 in grants from the Low Income Investment Fund, a national community development finance institution. In neighborhoods around the country, similar groups help plan, fund, and build early-education centers like Booth Memorial, where children learn, grow, and get ready for kindergarten and beyond.
But how else does the community development  field help children develop into healthy adults? That's what Katie Wehr, program officer at the Robert Wood Johnson Foundation, is most curious about.
Since the 1970s, psychologists have understood that everything in a child's environment affects their development. Today, thanks to the "Moving to Opportunity" study and research by Raj Chetty and others, we know how living in a neighborhood with educational, economic, and other opportunities can improve a child's life chances.
"But we recognize not all children can move to areas of opportunity," said Wehr. "So how do we create places of opportunity where kids are currently living?"
Wehr, who holds a master's in public health in maternal and child health from the University of North Carolina at Chapel Hill, is interested in how community development can play a bigger role in ensuring that communities as a whole support healthy child development. We spoke to her about the intersection between child development and community development, and what can be done to strengthen these links.
First off, why are the first years of a child's life so important?
Katie Wehr: What the neuroscience research is currently telling us is that the first years of life are when the brain builds the pathways and connections that help us make decisions. It's also the period that strongly shapes a person's ability to relate to other people, as well as a person's response to stress and to emotions.
At the same time, we realize children don't raise themselves. They're nestled in families and communities. There's a strong interplay between a child's healthy development, their relationships with trusted adults, and their environment—the places where people live and grow.
There's a strong interplay between a child's healthy development, their relationships with trusted adults.
These two understandings—early brain science and the interplay of children with their social and physical environments—is particularly important when we think about kids' development. Poverty, violence and family instability create trauma and toxic levels of stress, which in turn disrupt a child's stability and social, emotional, and physical development.
Community development provides important roles in creating conditions for family stability – from family income and employment to housing – and neighborhood stability and safety. For kids to flourish as kids and into adolescence and adulthood, we need communities that offer the conditions for stability, safety, and opportunity early on in their lives. That is: communities that promote thriving, not trauma.
The Robert Wood Johnson Foundation is not new to the notion of place and its role in creating better health. But it's newer to thinking of the community development field as playing an important role in shaping and building the places and environments that are so important for kids and families.
So how does community development usually see its role in supporting early childhood development?
That's still a question I'm trying to figure out. When I've talked with folks in the community development field about how their work supports healthy childhood development, they first tend to bring up the importance of early learning and community development's role in financing and building childcare or early-learning facilities.
However, they don't usually talk about all the other ways community development activities support the healthy development of children. That could mean anything from building stable, affordable housing so families don't have to move, to reducing environmental toxins children might be exposed to, to connecting families to education and other economic opportunities or types of services like health care or child care or banking, to planning and zoning communities so that it's easier for neighborhoods to be more diverse or for people to connect to one another or to be physically active.
What are the new ways to think about designing buildings and neighborhoods with kids in mind? These are the kinds of questions we need to be asking right now.

Do you have places in mind where this is happening? Where community developers have thought about childhood development in a holistic way?
There are great models out there. BRIDGE Housing in California, for example, offers health and education services, like afterschool clubs and summer camps, to its residents. Another example is the work that's happening in the Purpose Built Communities in Charlotte, or East Lake in Atlanta where a "community quarterback" model brings together mixed-income housing, education and other community wellness work. Some places are thinking about outcomes beyond just real estate. For instance, Beyond Housing in Missouri has done some work to be a financer as well as a convener of community partners across different sectors. There are multiple roles—financer, convener, builder, project manager, and planner, to name a few—that can be played by community developers.
Why is cross-sector collaboration important to making these projects work?
We know health is more about well-being—not just the absence of disease but mental, physical, social and emotional well-being. And that the health, social and economic problems that communities are facing are complex. One entity or agency isn't going to have all the answers or the ability to make a difference alone. We are going to need individuals and groups with different perspectives to do the design work, to ideate around what's possible, and to bring those ideas into reality.
Experts include those in the community development space, as well as in other sectors like health care, public health, and education. It's also about recognizing the expertise and wisdom of community residents. It's critical to provide space to have meaningful dialogue about what's needed, and then addressing those root causes through the different types of tools or assets different agencies or individuals bring.
What questions could get community development folks thinking along these lines?
While there are certain tools to get us started, like health-impact assessments to evaluate the impact of policies on health or evidence on the effects of community design on health, I don't see a unifying framework for thinking about how the community development field intersects with healthy child development.
For example: How do we understand and better incorporate the effects of community development activities on children and families? How can we create stable neighborhoods in a way that stabilizes families? How do we provide the operating supports —not just the capital supports—for the activities that we know are good for kids and families? What are the new ways to think about designing buildings and neighborhoods with kids in mind? What does design mean for a child who is only three feet tall? How do environments create community to bring people together of all ages? These are the kinds of questions we need to be asking right now.
Ultimately it's about identifying how we can ensure that all kids and their families thrive—no matter who they are or where they live.