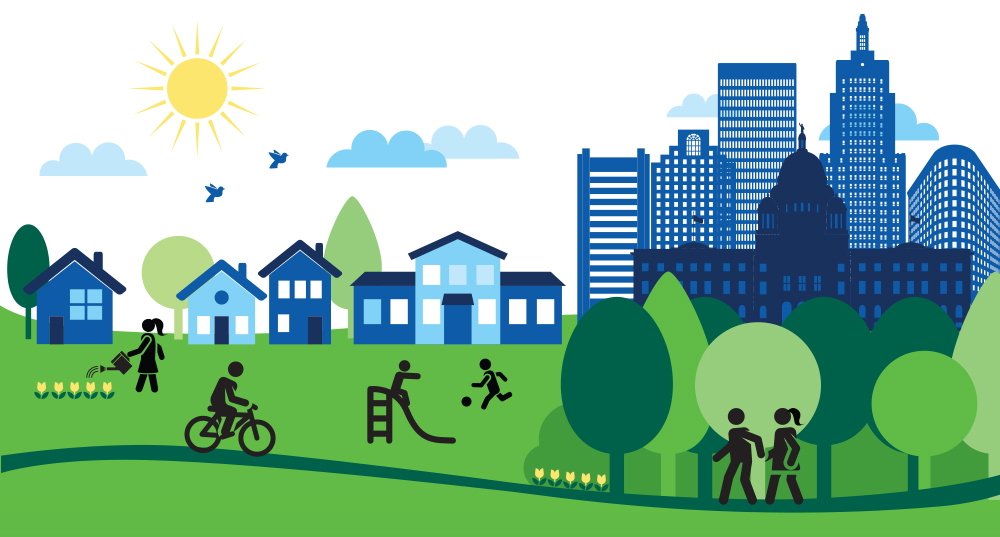 Investing in Community through Rhode Island's Health Equity Zones
To have the biggest impact on health outcomes, and help curb the rising cost of care, we must shift our investments to the place where health happens the most: our communities.
At a recent community event, someone made a reflection that stuck with me. "The opposite of addiction isn't sobriety," said Jonathan Goyer, an expert advisor to Governor Gina Raimondo's Overdose Prevention and Intervention Task Force and a person in long-time recovery. "It's connectedness."
His statement referred to the impact that a strong support system can have in helping individuals achieve long-term recovery from substance use disorders. Yet it resonates beyond any single health issue. Strong communities create health . We all have a role to play in building them.
Data show that adjacent neighborhoods in the same cities often have striking differences in health outcomes. We spend an enormous amount on health care  as a society, yet 80 percent of our health is determined outside the doctor's office and inside our homes, schools, jobs, and neighborhoods.
To have the biggest impact on health outcomes, and help curb the rising cost of care, we must shift our investments to the place where health happens the most: our communities. Critical to this approach is communities that have agency to define their own needs and lead efforts to address them – and empowering them to access the diverse resources they need to do so.
Rhode Island's Health Equity Zone Initiative
The Rhode Island Department of Health (RIDOH) is investing in community through its Health Equity Zone (HEZ) initiative. This is an innovative, place-based approach that brings people in a defined geographic area together and invests in helping them strengthen the infrastructure their community needs to transform systems for healthier living. Each HEZ establishes or expands a collaborative infrastructure of diverse community partners, who conduct a needs assessment and collectively implement a data-driven plan of action.
To reinforce the strength of each HEZ's infrastructure, a "backbone" agency passes through funding received to the community-based collaborative and coordinates their collective action. RIDOH encourages HEZs to include community development  partners in their collaboratives. Two community development organizations – LISC Rhode Island in Pawtucket and Central Falls, and ONE Neighborhood Builders in the Olneyville neighborhood of Providence – are currently HEZ "backbone" agencies. (Learn more about how this work is supporting well-being in Pawtucket and Central Falls.)
These partnerships represent a natural fit for the public health and community development sectors. Community development organizations often have years of experience engaging communities and supporting community-based collaboratives. These partnerships between the community development and public health sectors to invest in community through the ready-made infrastructure of the HEZ collaboratives strengthens their collective impact. For example, the Pawtucket and Central Falls HEZ Collaborative has attracted additional private investments of over $20 million to support affordable housing and access to community-based healthcare.  The Olneyville HEZ brought a mobile healthy foods market to the local elementary school through their strong community engagement.
This cross-sector, community-led approach also makes complete sense when we think about the factors that have an impact on health: clean, safe, affordable housing, employment opportunities, and community connectedness. RIDOH's HEZ approach braids together funds from several sources, to invest in this community collaborative infrastructure – working together towards shared goals for community health and well-being.
Sustainable Change that Transforms Communities
The HEZ initiative is more than a grant. Funding from RIDOH is intended to be an initial seed investment. Communities need sustainable, flexible funding organized within a HEZ community collaborative infrastructure to continue addressing their diverse needs over the long term. The goal is for each HEZ to sustain additional investments that will drive transformative change in their communities.
Rhode Island is working to pursue new and creative opportunities to bridge the gap between the action of our HEZ community-based collaboratives and the healthcare system, using existing regulatory mechanisms. This includes the process used to approve changes in hospital ownership and significant reductions in primary care and emergency department services under the authority of the State's Hospital Conversions Act. The Act requires RIDOH to approve certain changes sought by hospitals, to ensure a safe, accessible, and affordable healthcare system for all. In the past year, RIDOH has required investment in the local HEZs that two health systems reside in as a condition for approving their applications subject to this review process. The conditions also require the health systems to collaborate with their local HEZ collaboratives to fulfill the needs assessments of the community benefit requirements established through the Patient Protection and Affordable Care Act.
There are many other opportunities for a wide range of partners to support this HEZ model – through strategic investments, policy change, and collaboration in the pursuit of goals defined for the community, by the community. Our most entrenched health disparities can't be solved within our hospital and clinic walls. When we expand our definition of what creates health, new paths forward emerge to sustain transformative change. As my friend Jonathan might say, perhaps the solution is better connectedness.