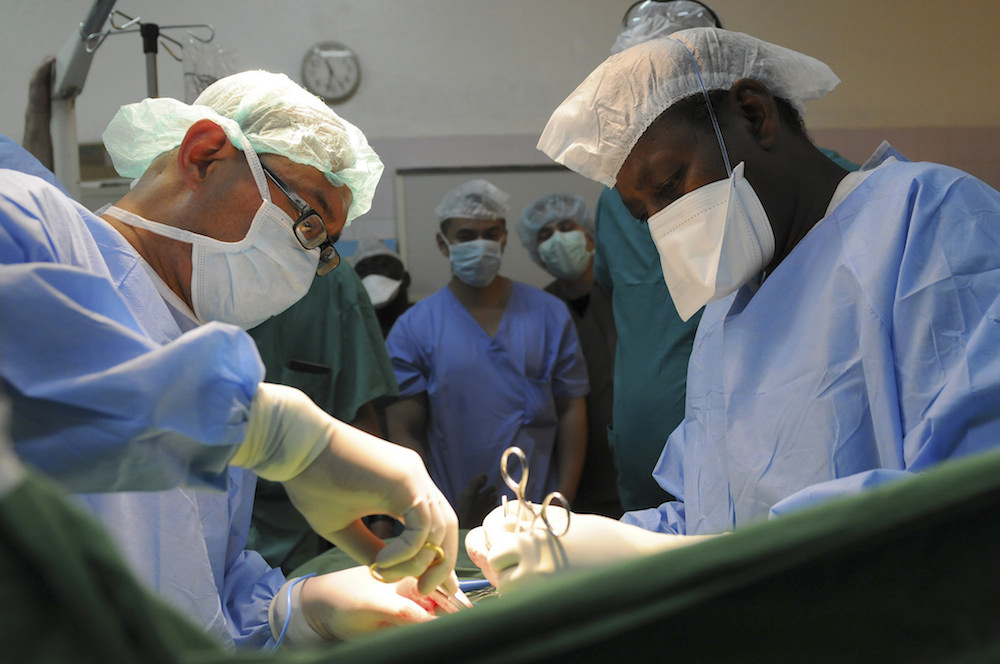 How Hospitals Can Help Cure Entire Communities
A new report highlights successful hospital efforts to make local populations healthier.
It is no secret by now that neighborhood, education, and other "social determinants" all affect personal and population health . When communities nine miles apart have starkly different life expectancies, the impact of place on well-being is clear.
Hospitals, as important anchor institutions in a community, are beginning to ask what more they can do to reduce these disparities. Once focused only on healing the sick, today some hospitals are realizing that to stem the disparities and prevent disease, they cannot ignore their role as a community's economic engine. That role is the focus of a new report by Ted Howard, president of the Democracy Collaborative, and Tyler Norris, a vice president at Kaiser Permanente.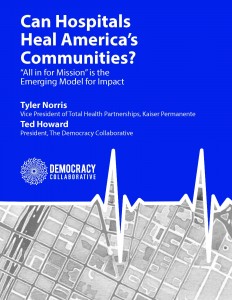 The authors suggest that increased awareness of social determinants of health , the cost-saving potential of preventive care, and new policy mandates have put many hospitals on track to help combat illness in their own backyards.
More health professionals are asking, "How do we more effectively intervene 'upstream' to impact the forces that contribute to high rates of chronic and other diseases?" the authors write. And that often means investing in the surrounding neighborhood by directing their sizable buying power—U.S. hospitals are a $3 trillion sector and create 18 percent of U.S. gross domestic product—to the people and places that they serve.
Putting some of their $780 billion purchasing budget into the nearby neighborhood, they believe, can help the families and local businesses thrive, in effect nipping the upstream determinants of poor health in the bud.
Hospitals, write Howard and Norris in a blog for the Federal Reserve Bank of San Francisco, "are going local not only because it is simply the right thing to do, but also because it makes the most sense for their mission and their bottom line."
In Detroit, the Henry Ford Health System, Detroit Medical Center, and Wayne State University have redirected more than $18 million to support local business, according to the report. Gundersen Lutheran Health System in Wisconsin set a goal of buying 20 percent of its food locally, but realized that was unattainable without first investing in local farms, producers, and distributors. In Cleveland, the University Hospitals have launched an employment pipeline for low-income residents. San Francisco's Dignity Health has created a loan fund for affordable housing. Similarly, the Mayo Clinic in Rochester, Minnesota, has helped finance the state's largest assisted-housing program, building hundreds of affordable units.
Because they are rooted in place, hospitals "have a vested self-interest in helping to ensure that the communities in which they are based are safe, vibrant, healthy, and stable," the authors write in their report. The Affordable Care Act also encourages such reinvestment. Tax-exempt hospitals are required to file a "community health needs assessments" of the neighborhoods they serve and gather community input. They then must demonstrate how the hospital will address the needs revealed in the assessment.
The path is not always smooth. Despite good intentions, institutions face the challenges of bureaucracy, tradition, and tight schedules in any effort to embrace an anchor mission. The authors acknowledge that new incentives for purchasing, hiring, and investment may be necessary to position hospitals as leaders in prevention-based health work. And establishing metrics for evaluating the efforts will be critical, the authors write.
But, as Howard and Norris write, "For their own sake, and the sake of the communities they serve, hospitals need to move beyond narrow notions of corporate social responsibility" and use their clout to transform neighborhoods and heal America's communities.
Top photo/US Army Africa