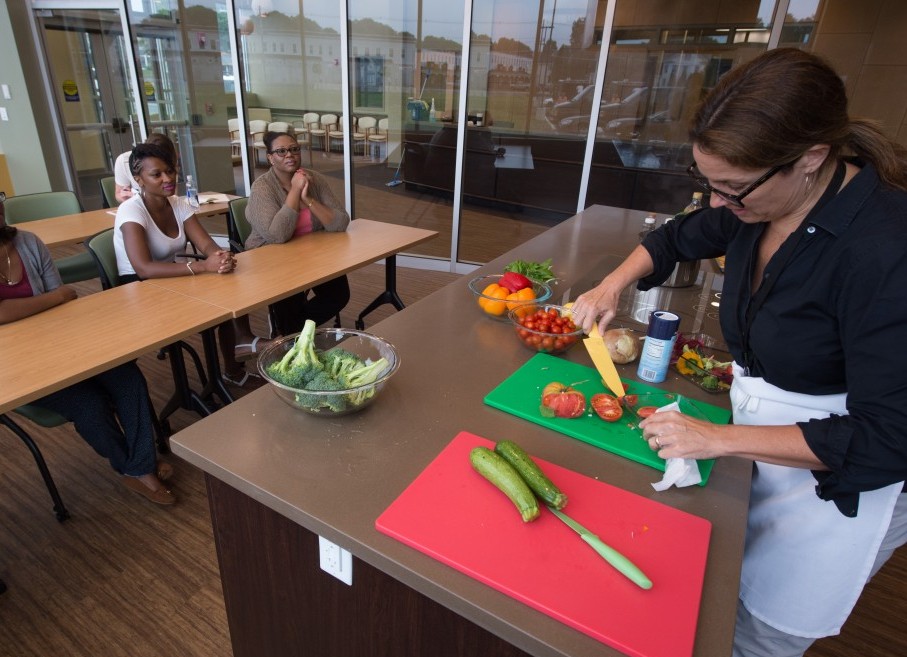 Healthy Futures Fund Moves Past Pilot to Impact
Expert Insight: Emily Chen from LISC discusses the value of looking at community development through a health lens.
In the nation's capital, a major economic development project has won wide acclaim for integrating affordable housing and supportive services with a job training center, a major health center and vibrant new retail—all in a green project, built on once-blighted land, just steps from a Metro stop.
I guess you could say it checks a lot of boxes on the community development scorecard.
So often, we rattle off attributes of remarkable efforts like this one—the $90 million Conway Center, on Benning Road in Northeast D.C.—as if they were commonplace, as if a project of this scope and scale were a normal occurrence in communities where high poverty and poor health seem inextricably linked.
But, those of us who work on these types of deals day in and day out understand how rare it is for the right mix of partners and resources to come together in ways that are truly be transformative. When it happens, we try to learn from it, replicate it and scale up so we can reach more people.
We wanted to look at community development through a health lens, and then make sure more money flowed to projects rather than process.
That sense is part of the rationale behind the Healthy Futures Fund (HFF). A collaboration among the Local Initiatives Support Corporation (LISC), Morgan Stanley, and The Kresge Foundation, HFF was launched in 2013 as a pilot to help bridge the disconnect between health and community development . Our first $100 million focused on ways to link better housing and with better health care, testing a new fund model to more efficiently deliver resources. We wanted to look at community development through a health lens, and then make sure more money flowed to projects rather than process.
With two years of experience under our belt and a fund model that has proven itself to work, HFF is expanding—assembling another $100 million for new projects. The technical piece of our work remains largely the same: HFF combines capital from Low Income Housing Tax Credits and New Markets Tax Credits with flexible grant and loan dollars in a blended investment product tailored to the needs of projects and communities.
Now, given what we've learned over the last few years, we are in a position to broaden our reach, as we address the ways that social determinants of health impact communities.
That varies from place to place, of course. Neighborhoods have different assets and face different challenges. Still, the projects HFF has closed to date offer an interesting roadmap for how public, private and nonprofit organizations can respond. In the Upper Peninsula of Michigan, for instance, HFF funded the rehab of an historic, abandoned department store into affordable apartments with on-site health services—not only benefiting the people who moved in but bringing a largely abandoned downtown block back in a rural county seat back to life.
In Toledo, on the other hand, HFF invested in an expansive new health center that includes a low-cost pharmacy, a credit union and community gardens that are growing fresh produce—all in an area where the poverty rate approaches 45 percent.
And, south of Boston, in the small city of Brockton, we were fascinated by a local effort to develop a new health center and a new grocery store, side-by-side on a blighted commercial corner in a distressed neighborhood. The goal is to tackle high rates of diabetes and heart disease with joint programming on healthy eating and lifestyles, as well as to boost local income and tax receipts, create jobs and make this area safer and more vibrant. It's a remarkable model of collaboration and impact.
Even amid all of that, our $34 million investment in D.C.'s Conway Center remains our most ambitious effort to date—not just because of the dollars involved, but because of the potential for long-term impact.
The project is the first major effort in D.C. to connect affordable housing, health care and job services—and it was our first where we combined housing credits and new markets credits as part of the same project.
The Conway Center recognizes how much "place" matters when it comes to taking on issues related to poverty and health. In addition to 200 affordable apartments and transitional housing for homeless residents, it includes 37,000-square-feet of space for a new Unity Health Care center. When completed next year, it will provide care to thousands of low-income patients in a medically underserved part of the city, as well as create more than 50 new jobs. The fact that it is right on the metro line makes it easily accessible to people outside the neighborhood as well.
The Center for Employment Training will also find a home at the Conway Center. Operated by the sponsor of the project—a veteran local nonprofit called So Others Might Eat (SOME)—the Center will help homeless and very low-income people train for and find living wage jobs. Those services are critical in a community where 26 percent live below the poverty line.
Ground-floor retail will improve the streetscape, while boosting local economic activity. And green space makes the project even more inviting, while LEED-certified, environmentally sound building practices reinforce a healthy approach to living.
Community development is a trial-and-error kind of enterprise—with many of the boldest ideas bubbling up from the local level.
For HFF, all of this was an incredible opportunity to align our partners' holistic view of what works in communities with an efficient means of structuring and investing capital. Given the project's strong public health approach to poverty, its experienced sponsor and many supporters, we think it will have a significant impact on its surrounding community, and beyond.
More broadly, I think it gives us another way forward in this work. Community development is a trial-and-error kind of enterprise—with many of the boldest ideas bubbling up from the local level. We have to continue testing new models, assembling new partners and creating new advocates to support them—especially at a time when public resources are so scarce. It is imperative that we feed local innovation if we are to respond to the incredible challenges our communities face.
Top photo/ Live healthy cooking demonstration at the Brockton Neighborhood Health Center.
Photo credit: LISC