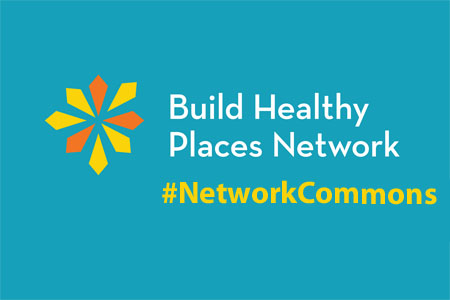 Health and Community Development Leaders Agree: Early Childhood Investments Matter for Neighborhood Health and Well-being
At Network Commons, three field leaders discussed the early childhood-neighborhood connection and the role for community development in supporting the health and well-being of children and their families.
There is ample evidence that ZIP code is important for children's health, but how can community development best support the needs of children and their families? Three prominent leaders shared their insights and practical tips during our March 15 Network Commons event.
The Network's Executive Director, Doug Jutte, moderated a rich discussion with three prominent leaders spanning community development finance, philanthropy, and child development research and policy:
Check out the highlights. Missed the event or need a refresher on our speakers' practical tips? Check out this video recording of the March 15 event on the Build Healthy Places Network's YouTube channel. Please note that the recording ends at 53 minutes due to a technical issue. Apologies for any inconvenience to our viewers.

Learn more. Read our recent Q&A on the early childhood-neighborhood connection with Katie Wehr, Program Officer at the Robert Wood Johnson Foundation. Stay tuned for next month's long-form essay on early childhood and community development. Finally, check out these resources mentioned during the event:
Continue the conversation. Still pondering how early childhood professionals, doctors, and community developers can work together? We're continuing to answer these and other audience questions via Twitter @BHPNetwork #NetworkCommons. Join the conversation and tell us what you think!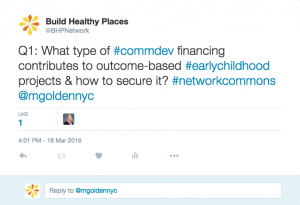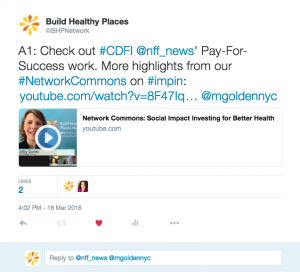 Catch up on Network Commons. Interested in learning more about Network Commons? Check out highlights from our past events: