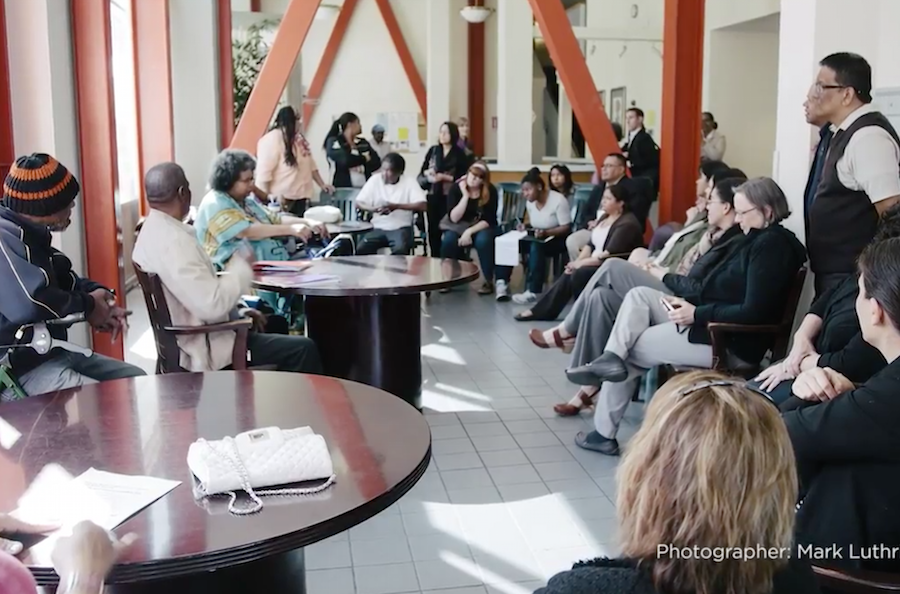 Collaborate? Easier Said Than Done. Leaders on How They Made it Happen.
In communities across the country, two sectors that have been working separately on similar problems are now collaborating to create healthy communities. Our new video shows how they do it.

None of us can fix the enormous problems of poverty alone. Tackling affordable, healthy housing, safe neighborhoods, access to healthy foods, or economic opportunity requires deploying all of a community's assets.
For medical practitioners, public health workers, and community developers, this often means reaching beyond the clinic and across the aisle to collaborate, with what are sometimes unlikely partners.
These partnerships are hard. Effectively crossing institutional borders is challenging and the systems are set up in such a way—from funding to organizational cultures to data systems—that the hurdles can seem insurmountable.
But the payoff is worth it.
We're all committed to staying at the table until we find the third way.
Our new video chronicles communities that have risen to the challenge, their struggles, and most importantly, their rewards. Because there are many.
"What we've been able to bring to the neighborhood," Philadelphia's Deputy Mayor for Health and Opportunity Susan Kretsge told us, "in terms of additional services, we absolutely think this is worth it." Susan and her partners at the Children's Hospital of Philadelphia are developing a new community health and literacy center in South Philadelphia.
"What has made [our partnership] work is we're all committed to staying at the table until we find the third way," said Joshua Simon, executive director of the East Bay Asian Local Development Corporation (EBALDC) in Oakland, California. EBALDC is leading an effort to revitalize the neighborhood surrounding Oakland's historic California hotel through partnerships with a health center, a food access organization, and the public health department.
We also visited the Villages of Eastlake in Atlanta Georgia, where a partnership between the city, the private sector, and local philanthropy has created a thriving community.
Shirley Franklin is former mayor of Atlanta, and now executive board chair at Purpose Built Communities, which helped develop the area. She told us that despite the hurdles—and there are many—"the magic is the partnerships. Forming them and maintaining them will get you more resources, more innovation, and more creativity."