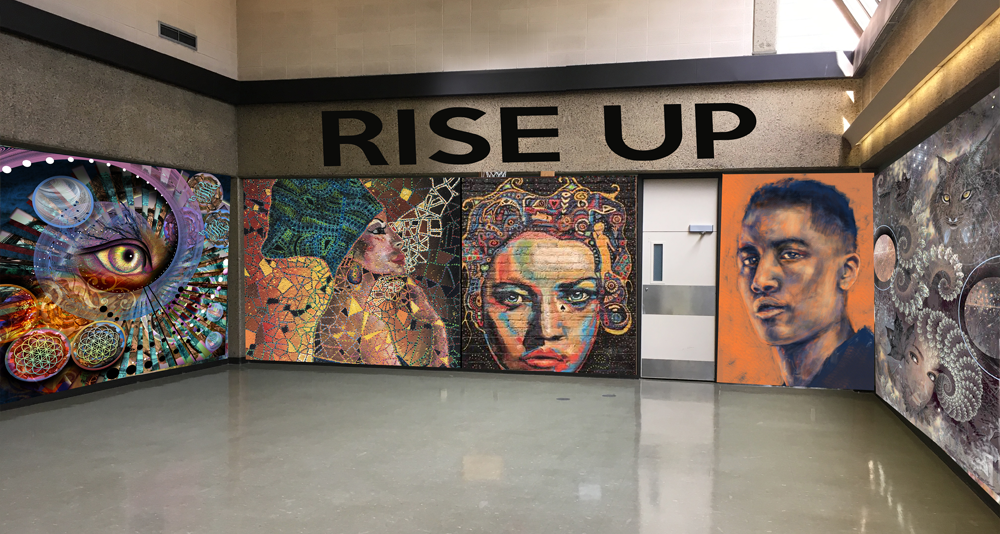 Amplifying Community Voice: Collaborative Art and Building Community
How community-engaged art is a mechanism for building healthy places, connecting people to one another, and ultimately improving health
Building healthy places can look like new bike paths, improved food systems, and affordable housing. It can also look like unlikely partnerships and deep community engagement like hospitals, health departments, and community development leaders working alongside residents and artists to create inspiring pieces of public art.
In Marathon County, Wisconsin, this approach to health isn't theoretical. It is a growing effort called "RISE UP – Painting a Healthy Community" that is steadily picking up speed.
A Different Approach
Marathon County, WI, has seen significant changes in the last few decades. The area now calls itself home to the second largest Hmong community in the state outside of Milwaukee. With the changing demographics (the percentage of people of color more than doubled from 4.5% in 1996 to 10.4% in 2013) came increased racial tension and calls for more community connections and understanding.
Alcohol misuse and abuse rates continue to be higher than national averages and illegal drug use was the number one concern in the 2015 Community Survey, sparked by a rise in heroin and prescription drug use and drug-related overdose deaths.[1] There exists a continuing need for affordable and accessible mental health services, including integrated treatment that addresses the co-occurrence of mental health and substance abuse.[2] The the importance of place-based investments and culture/art for social cohesion is clear, and we see our work as fitting in to the growing Healthy Placemaking movement.
With these changes and challenges, the residents of Marathon County were longing for a different kind of approach to creating a healthy environment – one that honored the diverse voices of the community and addressed the many health factors that impact health outcomes. RISE UP provides the creative platform to foster equity , enhance resilience and recovery and improve physical and mental wellbeing.
One RISE UP leader notes, "Our community is facing wicked problems and in order to address wicked problems we need to think differently about how we do the work.  We need to be innovative. We need to be creative. We need to unite as a community to make meaningful change."
"Our community is facing wicked problems and in order to address wicked problems we need to think differently about how we do the work."
The Power of Art
So how does an eclectic group of artists, community advocates, hospital staff, and public health educators find themselves in a meeting room developing a theory of change that involves healthy weight management, substance abuse statistics, health equity, poetry, and paint? It isn't as far-fetched as it seems. Research tells us that arts engagement can help with the self-management of chronic and long-term conditions. The participatory arts have a contribution to make to overcoming childhood obesity considering that natural and built environments are crucial to health  creation.
Participatory arts can give rise to significant reductions in anxiety, depression and stress and are also a suggested strategy to increase social support and develop social capital throughout communities.[3] A study of the Porch Light Initiative, a Philadelphia-based mural arts program suggests that residents are more likely to perceive high levels of neighborhood cohesion and trust, and less likely to stigmatize individuals with mental illness in neighborhoods with participatory art projects.[4] Lastly, engagement with the arts can play a role in mitigating health inequalities.
Therefore, after a series of opportunities to learn about the power of art in health, a number of community leaders in Marathon County came together to create RISE UP. The initiative is an inspiring example of cross-sector collaboration in central Wisconsin, including: artists, public health educators and practitioners, economic development professionals, social justice advocates, mental health clinicians, and others, working together. The unconventional collaboration is what gives RISE UP the creative force to influence the health of its community.
This fall, RISE UP will work with community-based social and health services organizations as well as cultural organizations to engage those facing behavioral health challenges and social isolation in art workshops and community dialogues. Additionally, a collaboration with community organizers will help focus on residents who have traditionally been left out of health promotion efforts including the Hmong and Latino community.
The RISE UP artists hope to spark discussion about what a healthy and vibrant place to live might look like and explore individual personal journeys as newcomers in the community or survivors of addiction. By next summer, a collaborative mural design will be developed and installed in a highly visible space, allowing the public to interact with the piece and learn of the stories behind it.
Grassroots to Health
The initiative encompasses each team member's perspective, giving everyone a stake in the mission and creating a community ownership of its impact. For an initiative aiming to break down barriers and foster community-wide equity, the organizers certainly practice what they preach. Backed by research, by the guidance of a community-engaged art expert, and the unique collaborations at its core, RISE UP is ready to hit the ground running this fall with its first public art project.
Those dedicating their time to building it are driven by a deep understanding: in order to build a healthy place for everyone in the community, that building process shouldn't only include community voice, it should amplify it. As one RISE UP artist notes, "Being a part of RISE UP means more than just making beautiful art in our community; it's breaking through barriers and making connections to people who come from all walks of life and learning from each other. That is how we will create a healthy place to live."
---
Footnotes
[1] The LIFE Steering Committee Focus 2015-2017  LIFE in Marathon County:  Local Indicators for Excellence.  Wausau, WI, 2015
[2] Ibid
[3] Kelaher M, Dunt D, Berman N, Curry S, Joubert L, Johnson V. Evaluating the health impacts of participation in Australian community arts groups. Health Promotion International. 2013
[4] Tebes JK, Matlin SL, Hunter B, et al. Porch Light Program: Final evaluation report. The Consultation Center at Yale. Yale School of Medicine; 2015
* Note: the art images are mock-ups of what a completed project might look like, created by Stephanie Kohli