Time to Act: Investing in the Health of Our Children and Communities
View Resource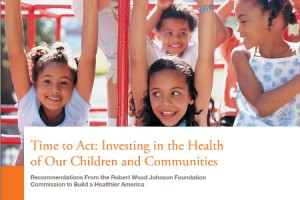 In 2008, the Robert Wood Johnson Foundation (RWJF) convened the Commission to Build a Healthier America to help us find better ways to improve the health of our nation. The Commission—a national, nonpartisan group of leaders from both the public and private sectors—issued 10 sweeping recommendations aimed at improving the health of all Americans.
The Commission's work sparked a national conversation that has led to a marked increase in collaboration among a wide variety of partners aimed at addressing the many determinants of health. Eager to build upon this progress, RWJF asked the Commissioners to come together again. This year, the Commission tackled immensely complex matters that underlie profound differences in the health of Americans: experiences in early childhood; opportunities that communities provide for people to make healthy choices; and the mission and incentives of health professionals and health care institutions.
They found that to improve the health of all Americans we must:
Invest in the foundations of lifelong physical and mental well-being in our youngest children
Create communities that foster health-promoting behaviors

Learn more about how the Network aligns with the Commission's second recommendation in a guest blog by Don Schwarz of RWJF

Broaden health care to promote health outside of the medical system
Read the executive summary or view the full report.