Urban Blight and Public Health: Addressing the Impact of Substandard Housing, Abandoned Buildings, and Vacant Lots
View Resource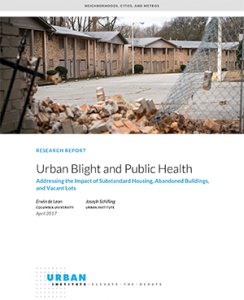 We spend more than two-thirds of our time where we live, and the state of our homes and neighborhoods invariably affects our individual and family's well-being. Studies have shown that the conditions within our residences, the surrounding neighborhood, and the cost of housing affect our health.
The quality of housing can contribute to general well-being or cause poor health. Exposure to poor indoor air quality, mold, lead, and rodent and cockroach infestations can lead to asthma and other respiratory illnesses, lead poisoning, learning and behavioral problems, and other serious health issues. Asthma is often cited as a key outcome of poor housing conditions. Mudarri and Fisk estimate that about 20 percent (4.6 million) of the 21.8 million people reported to have asthma in the United States can attribute their condition to dampness and mold exposure in their homes. They also calculate the national annual costs of asthma due to dampness and mold exposure in the home to be $3.5 billion. Structural hazards and unsafe conditions can also result in physical injuries and mental stress.
The federal Healthy Homes Work Group reports that millions of Americans suffer from poor housing conditions, including dilapidated structures; roofing problems; heating, plumbing, and electrical deficiencies; water leaks and intrusion; pests; damaged paint; and radon gas. Estimates suggest that more than 30 million housing units have significant physical or health hazards, such as dilapidated structures, poor heating, damaged plumbing, and lead pipes. The Healthy Homes Work Group notes further that substandard and inadequate housing disproportionately affects poor and low-income individuals, children, people of color, and people with disabilities and chronic medical conditions. Studies have shown, for example, that poor children, particularly children of color living in dilapidated urban housing, have dangerously high blood lead levels that can lead to irreparable harm to their health and impede their development.
Authors: Erwin de Leon and Joseph Schilling
Published by: Urban Institute