Population Health at Essential Hospitals: Findings from Moving to Action for Hospitals and Population Health
View Resource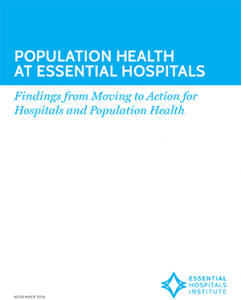 We now know that an individual's health is influenced by far more than the clinical care that they receive or their own habits and behaviors. The social, economic, and environmental circumstances of a person's life can account for as much as 50 percent of what determines their health. This knowledge challenges health care providers to think more broadly about their role in communities, how they deliver care, and how they distribute resources. It also offers an opportunity.
Health care reform has challenged the industry to simultaneously improve the efficiency and quality of the care it provides. Reform has pushed providers to shift their focus from fee-for-service to value-based care models and to expand their thinking from episodic, reactive care to more preventive, community-based health. Addressing the social risk factors of patients and the social determinants of health on the population level could provide the key to meeting this challenge while reducing health care costs and creating healthier communities.
Essential hospitals have a long history of working with vulnerable populations and are uniquely positioned to expand their role to include upstream factors affecting health. They often serve as anchors within their communities, with deep economic and social ties to the residents, leading to a clear understanding of the nonclinical influences on patients and population health.
Funding from the Robert Wood Johnson Foundation has allowed America's Essential Hospitals and Essential Hospitals Institute to interview experts, survey essential hospitals, and conduct key informant interviews to better understand the state of population health improvement activities at essential hospitals. Our researchers have identified barriers to progress, highlighted potential facilitators to success, and determined resource needs of essential hospitals as they embrace a population health approach.
This document presents our findings categorized into five areas: finding an appropriate role, building a foundation for population health, working beyond the hospitals' walls, measuring population health, and aligning population health financing.
Authors: Kalpana Ramiah, DRPH, MSC; Brian Roberson, MPA; Janelle Schrag, MPA; Katherine Susman; Bruce Siegel, MD, MPH; Madeline White