Matching Communities with National Catalyst Organizations to Improve Population Health
View Resource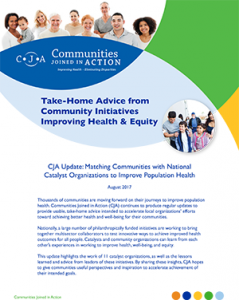 Thousands of communities are moving forward on their journeys to improve population health. Communities Joined in Action (CJA) continues to produce regular updates to provide usable, take-home advice intended to accelerate local organizations' efforts toward achieving better health and well-being for their communities.
Nationally, a large number of philanthropically funded initiatives are working to bring together multisector collaborators to test innovative ways to achieve improved health outcomes for all people. Catalysts and community organizations can learn from each other's experiences in working to improve health, well-being, and equity.
This update highlights the work of 11 catalyst organizations, as well as the lessons learned and advice from leaders of these initiatives. By sharing these insights, CJA hopes to give communities useful perspectives and inspiration to accelerate achievement of their intended goals.