Collaborating For Community Health
View Resource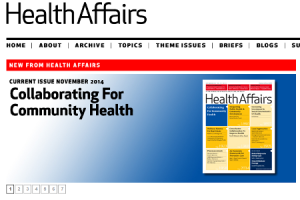 The November 2014 issue of Health Affairs, "Collaborating For Community Health," examines new possibilities created by alignment of the fields of health and community development from both sides, including recent changes in the community development field that have set the stage for the new focus on improving health, as well as new approaches to health care financing that create incentives for improving health outcomes.
The issue features two articles co-authored by the Network's executive director, Doug Jutte:
On November 5, 2014, the Network was part of an in-person Health Affairs event in Washington, DC, where we and our fellow authors discussed and existing opportunities at the intersection of health and community development. Read our reflections on the event.